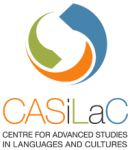 Established in September 2014, the Centre for Advanced Studies in Languages and Cultures (CASiLaC) supports a transdisciplinary culture of collaborative research across the School of Languages, Literatures and Cultures at University College Cork.
Located in the O'Rahilly Building, CASiLaC serves to stimulate research initiatives and support our early career researchers. CASiLaC is motivated by the critical role that Modern Languages — encompassing areas as diverse as literature, drama, film, linguistics, area studies — can play within the Humanities. And we do so in ways that also reflect on how to bring creative and original research into a conversation with the wider public.
Through CASiLaC we will continue to contribute to national and international intellectual debates, drive cultural initiatives, and seek to influence policy on the basis of our core research activities.
---