TRANSLATOR IN RESIDENCE REPORTS
LITERARY TRANSLATOR IN RESIDENCE REPORT 2021-2022 - CLARA MINISTRAL
The University College Cork/Literature Ireland Literary Translation Residency is the result of a partnership between the School of Languages, Literatures and Cultures and Literature Ireland, the national agency for the promotion of Irish literature abroad.
Originally scheduled to launch in 2020, the programme had to be postponed due to COVID-19, but the inaugural Literary Translator in Residence, Clara Ministral, was finally able to travel to Cork and start her 12-week residency in early February 2022.
Clara Ministral studied Translation and Comparative Literature and has been translating fiction and non-fiction from English to Spanish since 2008. During that time, she has also held other positions in the arts sector, both in the UK and in Spain, as well as working in commercial translation. Since 2018, she has overseen a mentoring scheme for emerging translators in Spain in collaboration with ACE Traductores, the Spanish Association of Literary Translators. Ever since coming across and subsequently translating Jan Carson's novel The Fire Starters – winner of the European Union Prize for Literature for Ireland – Clara has been a keen proponent of Irish literature in the Spanish-speaking world. She has been one of the translators in Literature Ireland's Talking Translations podcast series, as well as contributing to the organization's inaugural series of literary translation summer workshops in 2021.
There were two principal strands to Clara's residency at UCC. On the one hand, throughout her time in Cork she worked on promoting contemporary Irish literature among Spanish publishers. The opportunity to be in close proximity to the Irish cultural and literary scene, attending events (such as Cúirt International Festival of Literature and Cork World Book Fest) and establishing relationships with authors, literary agents, publishers and academics, allowed Clara to discover a wealth of extraordinary Irish works published in recent years. She went on to select six wonderful – and yet untranslated – novels by contemporary Irish authors with the potential to appeal to Spanish readers and worked on translation samples and pitches for submission to publishing houses in Spain. Although the fruits of her pitching might take some time to show, she is hopeful that her efforts will result in some of these literary works reaching a Spanish-speaking audience.
In parallel to this, an essential part of the residency was focused on bringing Clara's practice as a professional literary translator into the day-to-day life of the School. As well as engaging in numerous interactions with members of the UCC community – which helped foster a better mutual understanding between the environments of academia and professional literary translation – she delivered a number of more formal activities for students (mostly, though not exclusively, those undertaking the MA in Translation Studies) and members of staff.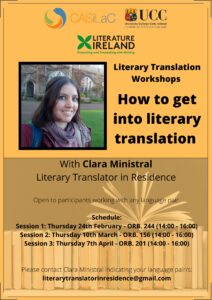 First among these was a series of three workshops tackling 'how to get into literary translation', which took place on 24th February, 10th March and 7th April. Well aware that starting in this field might seem difficult or even impossible to those unfamiliar with the publishing industry, Clara offered some highly practical tips and guidance on how and where to start.
Workshop attendees learned how to compile a pitch for publishers (and got to prepare their own pitches), heard about useful avenues to explore when trying to get one's foot in the door – such as getting published in literary magazines and writing reader's reports for publishers – and also familiarised themselves with some of the available opportunities for those seeking to develop a career in literary translation. Whilst painting a realistic picture of the publishing industry and the attendant difficulties of working as a literary translator, Clara was keen to dispel the myths that literary translation is never viable as a career and that it is a completely impenetrable sector for those outside of certain circles, instead encouraging attendees to try and break into the field through a number of realistic, practical steps that any translator can take. The workshop attendees' diverse backgrounds, language pairs and interests made for stimulating discussions in the three sessions and it has been wonderful to hear that, after the end of the series, some of the participants have been putting what they learned into practice out there in the real world.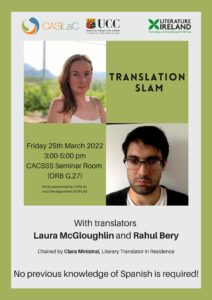 Secondly, two other professional literary translators, Laura McGloughlin and Rahul Bery, travelled to UCC on 25th March to participate in a translation slam organised and chaired by Clara. For this event, Rahul and Laura both prepared translations into English of the exact same literary text in Spanish, an extract from Ana Flecha Marco's novel Piso compartido.
During the well-attended slam, all three translators discussed these different versions, looking at some of the challenges posed by the original text and the contrasting ways in which the two slammers had handled them. This was a fantastic opportunity to learn what really goes on 'behind the scenes' when translators work on a literary text and to discuss practical topics such as translating voice, dealing with puns and wordplay, and what to do when faced with ambiguity. It has also been very positive to learn that the texts produced are having a life beyond the slam, as several members of staff expressed interest in using these texts subsequently in their lessons (not only with students of translation or languages, but also with those pursuing creative writing courses).
Lastly, on 21st April Clara took part in a research seminar alongside the Galician poet and translator Daniel Salgado. Their presentations, and the animated discussion with attendees that followed, offered a fascinating contrast between translating books for a living and translating poetry mainly for pleasure. As she reiterated throughout her residency, Clara emphasised the idea of literary translation as a professional practice and the critical importance of fully recognising its more prosaic aspects (such as working conditions, financial considerations or legal issues) when discussing this sometimes overly romanticised activity.
As well as delivering these activities at UCC, Clara was invited to participate in an event at the Cork World Book Festival on 23rd April where she was paired with local author Billy O'Callaghan. This unusual format allowed the audience at the City Library to hear an author and a translator – who had never met before, nor collaborated on any of the author's books – in conversation about their journeys through literature around the world.
Through a discussion of their work and respective experiences of translation, the audience were treated to an absorbing dialogue between an author who has been translated into many languages and a translator who has rendered works by numerous authors into her mother tongue.
This literary translation residency, hopefully the first of many at the School of Languages, Literatures and Cultures, has proved to be a positive and successful way to bring literary translation practitioners closer to the academic community and to strengthen the dialogue and links between two spheres which have much to offer one another. The residency is also exemplary in its twofold recognition of the important role literary translators can play in championing Irish literary works abroad when provided with the support to do it, and also of how valuable and necessary it is for translators to immerse themselves in the social, cultural and linguistic life of the country to make sure that its literature is suitably conveyed to foreign readers.